In 2017, America's National Park Service (NPS) will be celebrating its 101st birthday. Since its creation over a century ago, the agency has grown to include 59 national parks as well as hundreds of national historic sites, national monuments, national recreation areas, parkways, and more. Some parks are instantly recognizable icons of the United States, whereas others are hidden gems that few visitors take advantage of.
With such a diversity of sites, it's impossible to state definitively which park is the best. But there's a national park for every type of traveler, and the following ten picks are all unique in their own ways. You're certain to find at least one that piques your interest, or you may want to visit them all.
Great Smoky Mountains

 National Park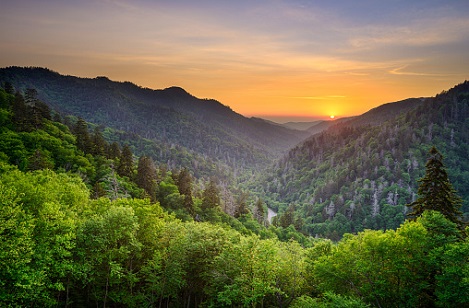 Where it is: North Carolina and Tennessee
Why it's unique: With over ten million visitors a year, Great Smoky Mountains is the country's most popular park. This scenic swath of the Appalachians receives almost double the number of visitors as the second-most popular park, the Grand Canyon. If you like to cross major destinations off your list and love having a range of activities to choose from, this park is for you.
What to look out for: You can get around Great Smoky Mountains in your car, on your bicycle, on foot, or on horseback. During your trip, keep an eye out for waterfalls, historic cemeteries, and a large collection of restored buildings. Wildflowers bloom year-round here, and if you time it right, you can catch spectacular fall foliage too.
When to visit: The park's primary roads are open all year, weather permitting, but secondary roads are closed seasonally.
Another option: Another popular Southern park is Mammoth Cave National Park in Kentucky, where visitors can explore the longest known cave system in the world.
Isle Royale National Park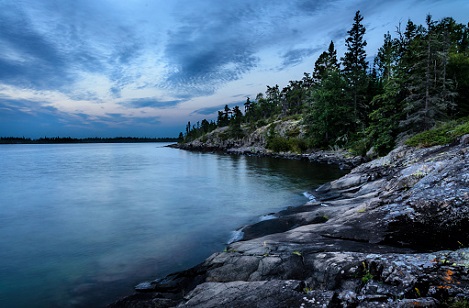 Where it is: Michigan
Why it's unique: Isle Royale National Park, situated on an isolated island in Lake Superior, is one of the least visited national parks in the country, and the least visited in the lower 48 states. Part of the reason for this is that you can't just drive or hike up to these trail-heads—visitors must take a ferry to the island, and a camping permit is required to stay overnight.
What to look out for: Along with solitude, this park offers a plethora of water-based adventures like fishing, canoeing, kayaking, and scuba diving.
When to visit: The park is open from April 16 through October 31.
Another option: Another park that's only accessible by boat (or seaplane) is Dry Tortugas National Park near Key West, Florida. Here, an impressive 19th-century fort is surrounded by small islands and coral reefs.
Glacier National Park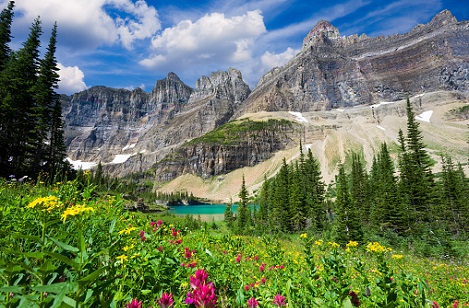 Where it is: Montana
Why it's unique: Nicknamed the "crown of the continent," Glacier is often called the most beautiful of the national parks. Beauty is in the eye of the beholder, of course, but Glacier's snow-capped mountains, reflective lakes, and dramatic vistas are undeniably stunning.
What to look out for: Glacier offers an array of relaxing activities to choose from. You can observe the flora and fauna, drive the evocatively-named Going-to-the-Sun Road, visit Waterton-Glacier International Peace Park on the Canadian border, and, in the summer, learn about the region's culture and history from members of local Native American tribes.
When to visit: The park is open throughout the year.
Another option: To immerse yourself in a completely different rugged and scenic landscape, try the stark and otherworldly Badlands National Park in South Dakota.
Pinnacles National Park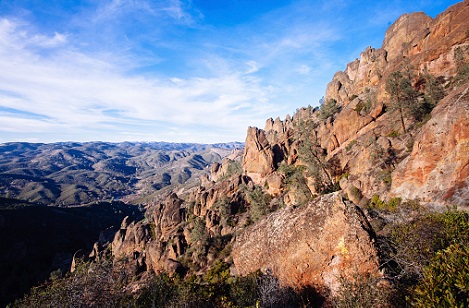 Where it is: California
Why it's unique: If you're a fan of emerging destinations, take note: Pinnacles is America's newest national park, created in January of 2013.
What to look out for: Ancient volcanic eruptions and seismic shifts created this diverse natural environment. Pinnacles features towering rock formations, caves, and numerous species of plants and animals. You'll experience some magnificent views here, and you might even spot an endangered California condor.
When to visit: The park is open year-round, but it's most popular for hiking in the spring. The NPS advises visitors to check the weather if hiking between late May and early September, as temperatures can reach dangerous highs.
Another option: A very different but also relatively "young" park (it was created in 2000) is Cuyahoga Valley National Park in Ohio. Follow the towpath of the Ohio and Erie Canal to see historic mills, waterfalls, and wilderness areas, without ever straying far from a city.
Virgin Islands National Park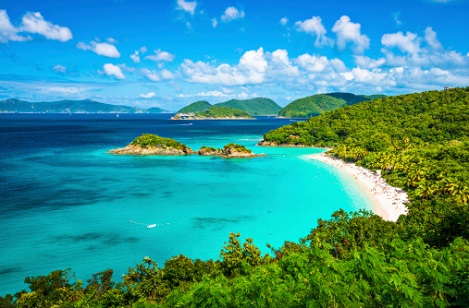 Where it is: U.S. Virgin Islands
Why it's unique: A national park that's not located in one of the 50 states? Yes! This Caribbean park covers most of the island of St. John, plus thousands of acres of the surrounding ocean.
What to look out for: This tropical landscape is home to  several acclaimed beaches and offers boating, camping, and snorkeling. Hiking trails lead visitors past ruins of the island's historic plantations.
When to visit: The park is open year-round.
Another option: If you want to venture even farther afield, consider the National Park of American Samoa, a Polynesian paradise on the tiny U.S. territory of American Samoa in the South Pacific.
Yosemite National Park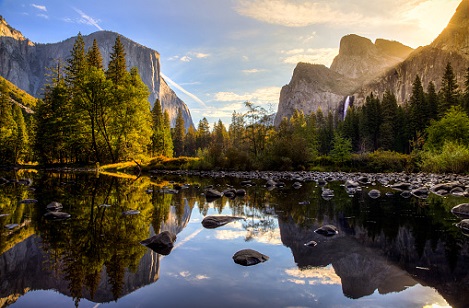 Where it is: California
Why it's unique: Most visitors drive into this popular park, but travelers who can't or don't wish to drive can simply catch an Amtrak train to the park. You can even take the train between Yosemite and Yellowstone to experience two of America's best-known tourist destinations without relying on that other American favorite: the car.
What to look out for: There's a lot to see in Yosemite, but if you arrive by train, why not continue exploring with public transportation and take a Valley Floor Tour on an open-air tram? On the tour, park rangers cover history, nature, and other park highlights.
When to visit: The park is open year-round, but some roads may be closed due to snow from fall through early summer. In colder weather, a heated coach is used instead of a tram for tours.
Another option: Another park for train lovers is the Grand Canyon, which can be reached by Amtrak and also has its own historic rail line, the Grand Canyon Railway.
Hawai'i Volcanoes National Park
Where it is: Hawai'i
Why it's unique: If you think a national park vacation means sleeping in a tent or staying in either a log cabin or a massive lodge, the historic Volcano House hotel, dramatically situated inside Hawai'i Volcanoes National Park, will change your mind.
What to look out for: From the hotel, which dates back to 1846, you can see Kīlauea, one of the most active volcanoes in the world. You can venture deeper into the park and follow the Crater Rim Drive Tour to scenic overlooks, steam vents, and the park's museum. Or take the Chain of Craters Road, stopping to see rock carvings, some of which have been there since Hawai'i's first human settlement, as well as the effects of an advancing lava flow.
When to visit: The park is open year-round, though some areas do close on occasion due to volcanic activity.
Another option: Fans of unexpected lodging will also enjoy Voyageurs National Park in Minnesota, where you can camp in a houseboat.
Yellowstone National Park
Where it is: Wyoming, Montana, and Idaho
Why it's unique: This geothermal landscape is not only one of the most famous national parks in America, it was also the first national park in the world, preserved as parkland in 1872.
What to look out for: Yellowstone is famous for its geysers, hot springs, and bison. But there's also snowshoeing, fishing, and guided backcountry trips with horses or llamas. Just beware of the bears.
When to visit: Yellowstone is open year-round, but some roads and areas of the park are closed seasonally, so double check your route before you go.
Another option: If you love exploring vast, iconic landscapes, you might be drawn to Arches National Park in Utah. The stunning red stone formations here make for amazing photos.
Everglades National Park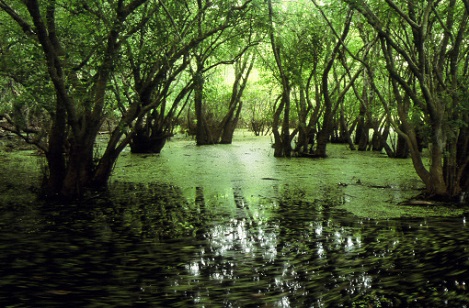 Where it is: Florida
Why it's unique: As the largest subtropical wilderness area in the country, Everglades National Park is one of the top picks for travelers wanting to see diverse forms of wildlife.
What to look out for: As you explore the park by foot, boat, or canoe, you might see alligators, crocodiles, greater flamingos, ibises, and maybe even a Florida panther or manatee.
When you should visit: Everglades is open year-round.
Another option: For tourists (and wildlife) who prefer a colder clime, Acadia National Park in Maine offers a glimpse of moose, peregrine falcons, seals, whales, and numerous other forest and marine creatures.
Denali National Park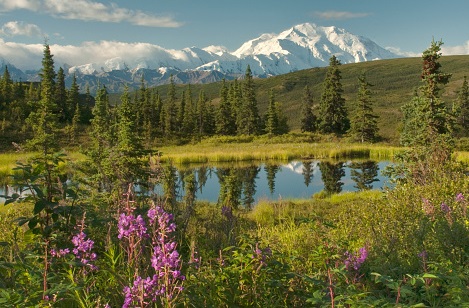 Where it is: Alaska
Why it's unique: If you like extremes, you'll appreciate the fact that Denali—North America's highest peak—has been called the windiest national park in the country and the coldest mountain in the world.
What to look out for: Climbing Denali, the NPS warns, is a serious undertaking meant for experienced climbers only. But this park offers other challenging, snowy activities for visitors of varying skill levels, such as cross-country skiing, dog-sledding, and snowboarding.
When you should visit: Denali is open year-round, but the park's single road closes in winter. When in doubt, contact the park before visiting.
Another option: If you want to experience extreme weather, but aren't into icy temperatures, there's always the hottest place in the world, Death Valley National Park in California and Nevada, where daytime temperatures have been recorded at above 130 degrees Fahrenheit.
Before you visit any of America's national parks, prepare by packing proper clothing, footwear, and equipment. If you're planning to drive, make sure your car insurance is up to date, just in case something unexpected occurs. It's also vital to remain informed regarding local safety tips and seasonal or emergency closings. For that information, as well as directions, entry fees, holiday closures, and visitor center locations and hours, visit each park's website.